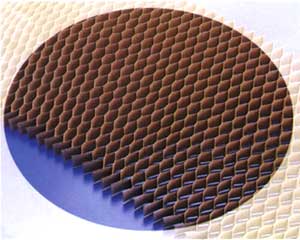 Honeycomb Paper Core is a seamless hexagonal designed sturdy and airy core or filling material, made of 100 percent reprocessed paper. Honeycomb Paper Core is extensively used as a reasonable core material in partition walls, interior doors, furniture boards, and several elements for the automotive industry. With a pattern encouraged by real honeycomb, this agile but robust core owes its potency and efficiency to the precise hexagonal shape of its cells which makes it extremely resilient to firmness in its numerous applications.

Following are the attributes of Honeycomb Paper Core:

Appropriate as a core material between facings of hardboard, plywood, chipboard, steel, melamine, softwood, etc.

Applicable in pasting processes with PVA or PUR, UF, etc.

High pressure and compression robustness.
Qualified as a core material between flat and molded facings
Effortlessly alters to any shape
Outstanding deformation properties
Available with or without ventilation slits or holes
100% recycled paper
Offered in sizes as per customer's necessity

Possibilities of application:
• Honeycomb core: Applicable indoor and furniture production like honeycomb door filling, honeycomb desk filling, etc.
• Honeycomb panels: Used in casing and fortification of transported merchandise, marketing production, exhibitions, appropriate for additional processing.
• Honeycomb slice: These are highly applicable in padding vacant spaces, guarding against flat-panel packing for furniture, damage in settings for the transport of door frames, fixation of goods, etc.
• Honeycomb pallets or paper pallets: These pallets are used in solitary shipping solutions for augmenting logistics.
• Forlight euro box: It is an innovative pattern based on paper honeycombs and outlines for guarding boundaries and corners. The panes for the fabrication of honeycomb boxes have attained exceptional output in drop tests for a specific product in the package.

With so many versatile usages, there is an ongoing demand of Honeycomb Paper Core has been in continuous demand, leading to a new dimension of business for the Honeycomb Paper Core Manufacturer in India. Also benefitting the Honeycomb Paper Core Supplier for their business expansion. Aiming to a quality-driven product line, Honeycomb Paper Core Manufacturer and suppliers have gained a prominent name in the industry that they are striving to sustain throughout. Manufacturer Eventually to create an effective production line Honeycomb Paper Core Manufacturer must take into concern the following traits of running:

• Manufacturers should procure the raw material from top-notch vendors in the market.
• Proper packaging of these Honeycomb Paper Core is one of the concerns as these cores are compression resistant.
• It's essential to ensure the potency and efficiency of Honeycomb Paper Core for a better quality product.
• They should offer a multitude of variants in terms of color, and sizes.
• Keeping up with the industry's norms, the manufacturers can have an easy flow of transactions.
• The entire range should be manufactured under the surveillance of a team of top-notch professionals to provide better output.
• Affordable prices can fetch more consumers.

Hence, the 'core' fact is that Honeycomb Paper Core Manufacturer in India have succeeded in cementing their position as a reckoned manufacturer with their expertise and well established cliental worldwide.
This entry was posted on November, 19, 2020 at 10 : 05 am and is filed under Honeycomb Paper Core. You can follow any responses to this entry through the RSS 2.0 feed. You can leave a response from your own site.